2019 Thanksgiving Football LIVE on QATV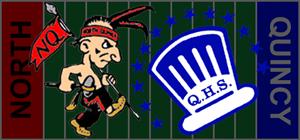 Tune in for live coverage on Thanksgiving morning!
Quincy Access Television (QATV) has announced that the 2019 Thanksgiving football game between the Quincy Presidents and the North Quincy Red Raiders will be shown live on QATV-8 on Thanksgiving morning. Live coverage will begin at 9:30am with a pre-game show, followed by game coverage starting at 10am.
QATV's Jonathan Caliri will call the play-by-play and Jim Timmins will serve as color analyst.
The game will replay on QATV-8 at the following times over Thanksgiving weekend:
Thanksgiving Day, November 28th, at 4:00pm, 8:00pm and Midnight.
Friday, November 29th at Noon and 8pm
Saturday, November 30th at Noon and 10pm
Sunday, December 1st at 8pm.